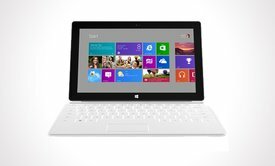 25/10/2013 - 09:58
Microsoft Corp cruised past Wall Street's quarterly profit and revenue forecasts on Thursday, helped by strong sales of its Office and server software to businesses, sending its shares up more than 5 percent after hours.
The world's largest software company is the latest tech firm to surprise investors with a powerful performance, coming the same day as Amazon.com Inc eased past average revenue forecasts. Technology is proving one of the most resilient sectors in an uncertain economy, with 84 percent of tech companies beating earnings estim...
28/01/2013 - 09:13
The store of the future has arrived and it is threatening to leave technology laggards behind....
12/12/2012 - 10:18
Middelburg Mall may be a newcomer to the South African retail scene, but it has already attracted over three-million shoppers...
02/11/2012 - 09:13
Duluth, Ga. -- NCR Corp. announced that it will be installing 10,000 SelfServ Checkout lanes to more than 1,200 Walmart locat...
05/10/2012 - 07:33
Johannesburg - Retailer Pick n Pay Stores warned on Thursday that it was running low on some goods at its stores due to the t...
The three winners of the Food Science and Technology Category of the 2013 IPSA Student Gold Pack Awards were recently announced at an awards luncheon in Johannesburg. READ MORE
LATEST FMCG & RETAIL JOBS
Managing the Regulatory Advisory Department, you will advise on pharmaceutical, foodstuff and cosmetic activities as well as supplying technical information for...
Our client is a leading manufacturer of essential and value added foods in South Africa. They pride themselves on being a supplier of exceptional quality, nutri...
FEATURED CLIENT
| | |
| --- | --- |
| | The Smollan Group, a diversified marketing services company, focused on providing visibility, mobility and intelligence to a vast spectrum of well-lov- |